June 25 - 27, 2014
December 4 - 6, 2013
November 13-15, 2013
June 19 - 21, 2013
December 5 - 7, 2012
November 14 -16, 2012
October 31 -November 2, 2012
October 2 - 6, 2012
June 20 - 22, 2012
April 11 - 13, 2012
December 7 - 9, 2011
November 16 -18, 2011
June 22 - 24, 2011
April 13 - 15, 2011
December 8 - 10, 2010
June 23 - 25, 2010
April 14 - 16, 2010
June 24 - 26, 2009
December 3 - 5, 2008
June 25 - 27, 2008
December 5 - 7, 2007
October 11 - 14, 2007
June 27 - 29, 2007
December 6 - 8, 2006
June 21 - 23, 2006
December 7 - 9, 2005
December 2 - 4, 2005
June 22 - 24, 2005
December 3 - 5, 2004
December 1 - 3, 2004
June 17, 2004
June 16 - 18, 2004
March 5, 2004
February 4 - 6, 2004
December 16, 2003
December 11, 2003
December 3 - 5, 2003
November 25 - 28, 2003
October 14 - 17, 2003
July 16 - 17, 2003
July 4 - 5, 2003
April 9 - 11, 2003

Exhibited at SEMI FPD Expo 2003 (Tokyo Big Site)

Achieving the "dream" of image expression
- Exhibited at SEMI FPD Expo 2003 held at Tokyo Big Site -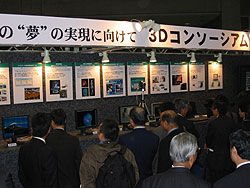 Visitors to the exhibition stopped in their tracks to look at the realism of the 3D images.
Having decided to use to our full advantage the forum for making announcements to the outside world with the aim of pushing the business activities of the members and the content of activities of the Consortium, there was an exhibition of related devices thanks to the cooperation of the member companies and the Consortium's activities were promoted.
27,343 people were recorded as visiting the SEMI FPD Expo 2003 over the 3 days from April 9th to 11th and the Consortium's corner attracted much attention and the visitors were enthusiastic in their questions.
The member companies IO Data, NTT Data, Cyber Step, Samsung Electronics, Sanyo Electrical, Sharp, Sony, Nihon TV, Mercury Sunday, Meta Corporation Japan all gave their cooperation.