June 25 - 27, 2014
December 4 - 6, 2013
November 13-15, 2013
June 19 - 21, 2013
December 5 - 7, 2012
November 14 -16, 2012
October 31 -November 2, 2012
October 2 - 6, 2012
June 20 - 22, 2012
April 11 - 13, 2012
December 7 - 9, 2011
November 16 -18, 2011
June 22 - 24, 2011
April 13 - 15, 2011
December 8 - 10, 2010
June 23 - 25, 2010
April 14 - 16, 2010
June 24 - 26, 2009
December 3 - 5, 2008
June 25 - 27, 2008
December 5 - 7, 2007
October 11 - 14, 2007
June 27 - 29, 2007
December 6 - 8, 2006
June 21 - 23, 2006
December 7 - 9, 2005
December 2 - 4, 2005
June 22 - 24, 2005
December 3 - 5, 2004
December 1 - 3, 2004
June 17, 2004
June 16 - 18, 2004
March 5, 2004
February 4 - 6, 2004
December 16, 2003
December 11, 2003
December 3 - 5, 2003
November 25 - 28, 2003
October 14 - 17, 2003
July 16 - 17, 2003
July 4 - 5, 2003
April 9 - 11, 2003

"Philips 3D Technology Presentation" was organized.

(Sharp's Ichigaya Building)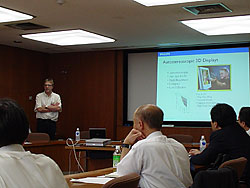 Mr Cees van Berkel, making a presentation
Philips released "Multiview 3D LCD," and Mr. Cees van Berkel (Philips Research Laboratories) who visited Japan for IVR (exhibited at the 3D Consortium's booth) was invited to give a lecture and to participate in a Q&A session.
Abstract: Outline of his speech
Multiview technology provides viewing freedom and a natural 3D experience. Using slanted lenticulars, 9 views are used to provide viewing freedom so that the 3D experience can be obtained at different distances and at many different positions in front of the screen. Real time conversion of standard 2D video to mutliview 3D as well as real time gaming are major content enablers for the technology.
Lecture Data -
Philips_3dc.pdf
[PDF data 1.7MB]