June 25 - 27, 2014
December 4 - 6, 2013
November 13-15, 2013
June 19 - 21, 2013
December 5 - 7, 2012
November 14 -16, 2012
October 31 -November 2, 2012
October 2 - 6, 2012
June 20 - 22, 2012
April 11 - 13, 2012
December 7 - 9, 2011
November 16 -18, 2011
June 22 - 24, 2011
April 13 - 15, 2011
December 8 - 10, 2010
June 23 - 25, 2010
April 14 - 16, 2010
June 24 - 26, 2009
December 3 - 5, 2008
June 25 - 27, 2008
December 5 - 7, 2007
October 11 - 14, 2007
June 27 - 29, 2007
December 6 - 8, 2006
June 21 - 23, 2006
December 7 - 9, 2005
December 2 - 4, 2005
June 22 - 24, 2005
December 3 - 5, 2004
December 1 - 3, 2004
June 17, 2004
June 16 - 18, 2004
March 5, 2004
February 4 - 6, 2004
December 16, 2003
December 11, 2003
December 3 - 5, 2003
November 25 - 28, 2003
October 14 - 17, 2003
July 16 - 17, 2003
July 4 - 5, 2003
April 9 - 11, 2003

3D Consortium Members Jointly Exhibited at '18th 3D & Virtual Reality Expo' (IVR)
Supported by the 3D Consortium and jointly exhibited by its members


Venue: Tokyo Big Sight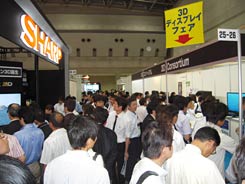 The 3D Consortium continued providing support to the "18th 3D Virtual Reality Expo" (renamed from the Industrial Virtual Reality Expo & Conference) which was held at East Hall 1 of the Tokyo Big Sight.
We installed a 3D Consortium booth at the exhibition site, and five member companies jointly exhibited at the booth. On June 25, Mr. Takafumi Koike from Hitachi, Ltd. gave a lecture under the theme, "The latest technical trends and case examples of 3D displays and 3D images" as a part of the specialized seminars we supported.
Also, 84,353 persons visited IVR over three days including the visitors of the "design/manufacturing exhibition" and the "machine element technologies exhibition" which were simultaneously organized.
| | |
| --- | --- |
| | |
| | |
Members Exhibited at the 3D Consortium's Booth

>>FUJIFILM Corporation
* Exhibit: "Direct 3D printing system" - A 3D printing system which enables on-demand acquisition of high definition stereoscopic photos.
* Exhibit: "3D measuring system" (reference exhibit) - A system which enables easy measurement of sizes and shapes by using a small 3D camera.
>> I-NET Corporation
* Exhibit: "Real time rendering software 'REMO' " - High-speed and high quality rendering software for real time computer graphics.
>>Newsight Japan Ltd.
* Exhibit: "A 42-inch 3D display without glasses" - This display shows two disparity image contents on an eight disparity multi-view screen.
* Exhibit: "A 8-inch 3D digital photo frame without glasses" - This photo frame displays ordinary photos taken with digital cameras as 3D images by converting them into five disparity images.
>>OLYMPUS VISUAL COMMUNICATIONS CORP.
* Exhibit: "Vision GOLF 3D" - Image contents which enable improvement of skills for playing golf by using 3D images.

>> VMJ CO., Ltd.
* Exhibit: "DeepOutside3D.Z" - Shifting of 3D applications to enable presentation of 3D images without glasses