June 25 - 27, 2014
December 4 - 6, 2013
November 13-15, 2013
June 19 - 21, 2013
December 5 - 7, 2012
November 14 -16, 2012
October 31 -November 2, 2012
October 2 - 6, 2012
June 20 - 22, 2012
April 11 - 13, 2012
December 7 - 9, 2011
November 16 -18, 2011
June 22 - 24, 2011
April 13 - 15, 2011
December 8 - 10, 2010
June 23 - 25, 2010
April 14 - 16, 2010
June 24 - 26, 2009
December 3 - 5, 2008
June 25 - 27, 2008
December 5 - 7, 2007
October 11 - 14, 2007
June 27 - 29, 2007
December 6 - 8, 2006
June 21 - 23, 2006
December 7 - 9, 2005
December 2 - 4, 2005
June 22 - 24, 2005
December 3 - 5, 2004
December 1 - 3, 2004
June 17, 2004
June 16 - 18, 2004
March 5, 2004
February 4 - 6, 2004
December 16, 2003
December 11, 2003
December 3 - 5, 2003
November 25 - 28, 2003
October 14 - 17, 2003
July 16 - 17, 2003
July 4 - 5, 2003
April 9 - 11, 2003

3D Consortium Members Jointly Exhibited at "The 13th Industrial Virtual Reality Expo & Conference 2005" (IVR)

Venue: Tokyo Big Sight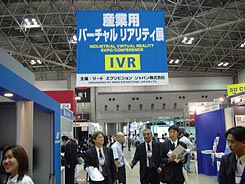 We continued participation this year by installing a 3D Consortium booth. Seven member companies jointly exhibited at the booth at IVR which was held for three days from June 22 - 24 at Tokyo Big Sight.
In specialized seminars held during the exhibition, Mr. Taniguchi from Sharp lectured about the "Trends and Prospects of the 3D Displays;" Mr. Miyazawa from Namco about "Relations between Games and VR (virtual reality);" and Mr. Takaishi from NTT Data about "Engagement for 3D."
| | |
| --- | --- |
| | |
| | Venue of Specialized Seminars |

Members Exhibited at the 3D Consortium's Booth
Arisawa Manufacturing Co., Ltd.
Dynamic Digital Depth Inc.
InterScience Corporation
FA System Engineering
Sanyo Epson Imaging Devices Corporation
Sharp Corporation
Netplus Co., Ltd.