June 25 - 27, 2014
December 4 - 6, 2013
November 13-15, 2013
June 19 - 21, 2013
December 5 - 7, 2012
November 14 -16, 2012
October 31 -November 2, 2012
October 2 - 6, 2012
June 20 - 22, 2012
April 11 - 13, 2012
December 7 - 9, 2011
November 16 -18, 2011
June 22 - 24, 2011
April 13 - 15, 2011
December 8 - 10, 2010
June 23 - 25, 2010
April 14 - 16, 2010
June 24 - 26, 2009
December 3 - 5, 2008
June 25 - 27, 2008
December 5 - 7, 2007
October 11 - 14, 2007
June 27 - 29, 2007
December 6 - 8, 2006
June 21 - 23, 2006
December 7 - 9, 2005
December 2 - 4, 2005
June 22 - 24, 2005
December 3 - 5, 2004
December 1 - 3, 2004
June 17, 2004
June 16 - 18, 2004
March 5, 2004
February 4 - 6, 2004
December 16, 2003
December 11, 2003
December 3 - 5, 2003
November 25 - 28, 2003
October 14 - 17, 2003
July 16 - 17, 2003
July 4 - 5, 2003
April 9 - 11, 2003

3D Consortium Members Jointly Exhibited at "The 15th Industrial Virtual Reality Expo & Conference 2007" (IVR)

Venue: Tokyo Big Sight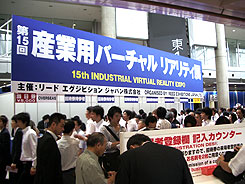 We continued participation this year by installing a 3D Consortium booth. Four member companies jointly exhibited at the booth at IVR which was held for three days from June 27 to 29 at Tokyo Big Sight. We continued providing support for the "3D Display Fair" during IVR as the 3D Consortium.
As specialized seminars titled "3D Display - Technical Trends and Application Examples of 3D images," which were organized during IVR, Mr. Toru Kikuchi from NAMCO BANDAI Games Inc. gave a lecture about "Application of Highly Realistic Displays to Arcade Games - The Example of 'Kidousenshi Gundam Senjo no Kizuna," and Mr. Kuniaki Izumi, Associate Head of Administration, 3D Consortium, about "Full-fledged movements toward 3D Broadcasting which have begun."
According to the announcement by organizers, 13,809 persons visited IVR over three days.
| | |
| --- | --- |
| | |
| | |

Members Exhibited at the 3D Consortium's Booth

3D Incorporated
* Exhibit: "Rendering engine 'REMO'," and "PHANTOM"
Arisawa Manufacturing Co., Ltd.
* Exhibits: "3D LC monitor with deflector glasses" and "2D/3D conversion software"
FUJI FILM Corporation
* Exhibit: "High performance multi-view still image camera 'FME USB1'" (reference exhibit)
Ice Cube, Co., Ltd.
* Exhibit: "3D contents production services"