June 25 - 27, 2014
December 4 - 6, 2013
November 13-15, 2013
June 19 - 21, 2013
December 5 - 7, 2012
November 14 -16, 2012
October 31 -November 2, 2012
October 2 - 6, 2012
June 20 - 22, 2012
April 11 - 13, 2012
December 7 - 9, 2011
November 16 -18, 2011
June 22 - 24, 2011
April 13 - 15, 2011
December 8 - 10, 2010
June 23 - 25, 2010
April 14 - 16, 2010
June 24 - 26, 2009
December 3 - 5, 2008
June 25 - 27, 2008
December 5 - 7, 2007
October 11 - 14, 2007
June 27 - 29, 2007
December 6 - 8, 2006
June 21 - 23, 2006
December 7 - 9, 2005
December 2 - 4, 2005
June 22 - 24, 2005
December 3 - 5, 2004
December 1 - 3, 2004
June 17, 2004
June 16 - 18, 2004
March 5, 2004
February 4 - 6, 2004
December 16, 2003
December 11, 2003
December 3 - 5, 2003
November 25 - 28, 2003
October 14 - 17, 2003
July 16 - 17, 2003
July 4 - 5, 2003
April 9 - 11, 2003

3D Consortium Members Jointly Exhibited at "The 14th Industrial Virtual Reality Expo & Conference 2006" (IVR)

Venue: Tokyo Big Sight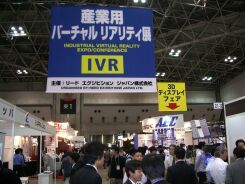 We continued participation this year by installing a 3D Consortium booth. Five member companies jointly exhibited at the booth at IVR which was held for three days from June 21 - 23 at Tokyo Big Sight.
We supported "3D Display Fair" newly established into IVR.
In specialized seminars held during the exhibition, Mr. Hamagishi from SEICO EPSON lectured about the ""Case examples of development of 3D displays and displays with 2 screens";" and Mr. Kakimoto from SGI JAPAN about ""Middleware which handles multiple types of 3D displays and case examples of its utilizations"
According to the announcement by organizers, 13,699 persons visited there over three days.
| | |
| --- | --- |
| | |
| | |

Members Exhibited at the 3D Consortium's Booth
Arisawa Manufacturing Co., Ltd.
FA.System Engineering Co., Ltd.
INNOVATEC Associates Ltd.
SEICO EPSON Corporation / SANYO EPSON IMAGING DEVICES Corporation
SGI Japan, Ltd.