July 21 - 25, 2013
August 5 - 9, 2012
September 26 - 30, 2011
September 22 - 23, 2011
August 7 - 11, 2011
April 14 - 11, 2011
November 3 - 5, 2010
July 25 - 30, 2010
May 23 - 28, 2010
March 20 and 22, 2010
April 9 - 10, 2009
January 18 - 22, 2009
August 11, 2008
May 18, 2008
November 26 - 27, 2007
August 17, 2007
November 10, 2006
July 30 - August 3, 2006
April 28, 2006
April 25th, 2005
January 16 - 20, 2005
November 17, 2004
November 4 - 6, 2004
November 3 - 4, 2004
June 26th, 2003
April 8th, 2003

Report of 3D related exhibition at CeBIT.

*
CeBIT
: Cebit is a specialist information communications trade fair which is the largest in the world and the most influential.
Held on March 12th-19th, 2003 in Hanover, Germany



Summary of show
Held at the International Trade Fair, Hanover, Germany
Number of participating companies: about 8,000
Visitors to the fair: over 800,000
Theme of the show: "Get the spirit of tomorrow"

Content of exhibition
6 companies including Sanyo and Sharp exhibited 3D hardware.


(1) Sanyo Electrical, LC panels (40", 8.4")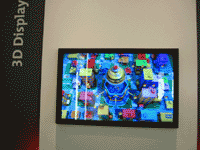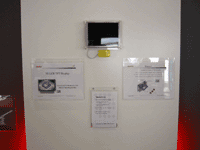 LCD version of exhibits when the 3D Consortium was established and exhibition of 8.4". The display content is the same as the game at the time of the Establishment Meeting.

(2) 4D Vision LC monitor/PDP monitor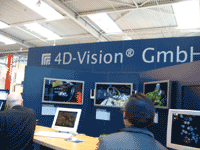 Exhibited several models from 17" LCD to large PDP.
Basically, well adjusted images with multiple viewpoints that can be switched smoothly between viewpoints (4-8 viewpoints). Even large devices are easy to focus and the impression is good. The actual business applications are medical and CAD etc. and the exhibition contents also had computer graphics of the molecular structure but contents were also seen that showed consciousness of the consumer such as 3D converted animated images and original (?) computer graphics animations.

(3) ACT Kern LC monitor (vertical type)

A system was exhibited that tracks the position of the head of the user by attaching a sensor (infrared beam) to the top of the monitor. It is not very well made but it was explained that it is at the level of practical use.

(4) See Real LC monitor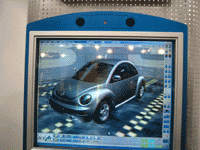 Here as well a 3D LC monitor with a tracking system was exhibited but this method involves sticking a small transmitter (?) to the head and receiving the signal and moving the images to match the position of the head. Apparently it is actually on the market. (The price is about 10,000 dollars. The results have sales have not been confirmed yet but they are apparently selling to surgeons and CAD designers.) As a low price version, there is also an eye tracking type using CCD, but a version that is high in terms of price and accuracy is selling well. Currently being developed is a highly accurate tracking system which does not require a transmitter for the head.

(5) Samsung 21" LC monitor

Two 16 viewpoint monitors were exhibited. The contents are original but it did not make a strong impact. Whether it was because of the 16 viewpoints or that the resolution is fairly characteristic, the sense of realism felt a little insufficient. The product has a 3D TV monitor and printing and the final target area is apparently TV.

(6) Sharp's LC monitor/mobile phone (SH251iS)/ Contents proposals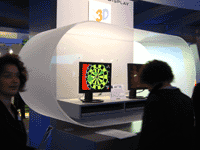 3D was divided into 3 areas as one way to promote sales within the booth. In the contents proposals area, examples of games, illustrated books, amusements (Pachinko) were exhibited. A representative explained the feedback that has been received. There has been some negative feedback; for example, that LC monitors are hard to focus in 3D (it's hard to get the knack), the user gets headaches (actually we do not believe people get headaches when using it for such a short time). On the topic of mobile devices, many people responded that it is interesting but they are not sure if they would actually use it. Possibly the contents were not very good. My impression was that the promotion of why it is broadly accepted in Japan and why it is fun to use is lacking.

Impressions
What I felt on seeing the exhibition and listening to the talks
The exhibition itself is not particularly flashy but I got the impression that in Europe the world of 3D display has already begun as a real business.
The industry is extremely limited and it is not a large market but I felt that the expression "niche" is more appropriate than "fad". However, as with other areas, the various markets do what they want so it is a fairly inefficient market as a whole. All of the companies have great expectations for the Consortium's activities.

The companies who are already in 3D business are demonstrating games and amusements as immediate and intuitive examples for applications, but what they really see is not consumer business which brings little sales margin. (Their real focus is on the commercial market.) Consumer business will bring the LCD price down, and it is welcomed. But they do not think it is their business.


Report by Mr. Yasushi Yamamoto, Sharp