July 21 - 25, 2013
August 5 - 9, 2012
September 26 - 30, 2011
September 22 - 23, 2011
August 7 - 11, 2011
April 14 - 11, 2011
November 3 - 5, 2010
July 25 - 30, 2010
May 23 - 28, 2010
March 20 and 22, 2010
April 9 - 10, 2009
January 18 - 22, 2009
August 11, 2008
May 18, 2008
November 26 - 27, 2007
August 17, 2007
November 10, 2006
July 30 - August 3, 2006
April 28, 2006
April 25th, 2005
January 16 - 20, 2005
November 17, 2004
November 4 - 6, 2004
November 3 - 4, 2004
June 26th, 2003
April 8th, 2003

Electronic Imaging 2005 (San Jose, USA)






"Electronic Imaging 2005" was held for five days from January 16 to January 20, 2005 at the San Jose Convention Center in San Jose, California, USA. The event consisted of activities such as presentations of research papers and demonstrations with inspiring contents. 1,000 - 1,200 persons including participants from universities and companies in Japan, Korea and Taiwan as well as from Europe and the United States attended the conference. Many current and potential future members of the 3D Consortium have expressed their opinions that the Consortium should be more active in overseas activities.


Electronic Imaging 2005 Exhibition
Stereoscopic Display & Applications Conference Demo Session


The conference has long been well-known in the field of image processing, display and optics, and visitors have a wide variety of backgrounds from academic research to business. Exhibitions were held at the site of Electronic Imaging and also during the demo session of SD&A. Starting last year, this was the second year in a row that the 3D Consortium hasa had a booth at the exhibition.

Electronic Imaging Exhibition
(3D Consortium's booth)
The interest of visitors in our themes seemed to be great. Sometimes during the intervals between lectures, there were visitors who were unable to enter the exhibition space.
See Real Technologies
: Exhibited a system with a 3D resolution of 1600 x 1200 pixels (20 inch display) using a stereo camera or 2 single cameras or a stereo endoscope. Demonstrations were focused on the application in the field of science represented by the display of molecular architectures.
For3D, Inc.
Presentation of contents automatically generated by its own conversion software from 2D to 3D on a 55-inch TV monitor with a rear projection system. Stereoscopic images were introduced that was without any degradation of resolution due to the use of special glasses which combined a deflector lens and an anaglyph.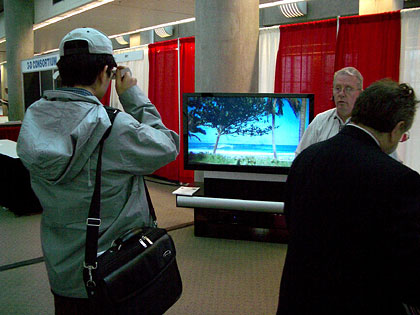 Sharp Corporation/Dimps Corp.
Sharp exhibited its second-generation 3D notebook computer which had just been released at the CES, and an existing 15-inch 3D monitor. Both of them used a parallax barrier system. The English version of an intellectual educational software called "Sancho kangaechu (Sancho is thinking)" developed by Dimps Corp. was mostly used for the presentation of contents.

Dynamic Digital Depth
: Demonstration of software which enables real time conversion of commercially available DVDs from 2D to 3D (using Sharp's 3D personal computer)
Durham University (Professor Nick Holliman)
: Exhibited plug-in software which enabled an easy adjustment of depth of computer graphics.

e-frontier, Inc.
Via Curious Labs, exhibited panels which introduced works created by using a software program for computer graphics creation "Shade."


SD&A session
SD&A was a session in Electronic Imaging which specialized in stereoscopic images. After the conference program, demonstrations of technologies and products were made by participants on the tables at the conference site. Many people watched these demonstrations, because they were able to see brief demonstrations. Among the 3D Consortium's members, Arisawa Manufacturing Co., Ltd. and Sharp Corporation made demonstrations of their hardware products at the Dynamic Digital Depth's table. Our associate members, Hebrew University and Durham University introduced their technologies separately.