July 21 - 25, 2013
August 5 - 9, 2012
September 26 - 30, 2011
September 22 - 23, 2011
August 7 - 11, 2011
April 14 - 11, 2011
November 3 - 5, 2010
July 25 - 30, 2010
May 23 - 28, 2010
March 20 and 22, 2010
April 9 - 10, 2009
January 18 - 22, 2009
August 11, 2008
May 18, 2008
November 26 - 27, 2007
August 17, 2007
November 10, 2006
July 30 - August 3, 2006
April 28, 2006
April 25th, 2005
January 16 - 20, 2005
November 17, 2004
November 4 - 6, 2004
November 3 - 4, 2004
June 26th, 2003
April 8th, 2003



Report
: Imai (3D Consortium)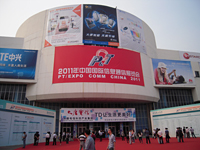 | | |
| --- | --- |
| Date: | September 26 - September 30, 2011 |
| Venue: | China International Exhibition Center (Beijing, China) |
September 26 (Mon) - 30 (Fri), 2011, "PT/EXPO COMM CHINA 2011" was held at the main hall of the China International Exhibition Center in Beijing, China. This exhibition was sponsored by the Ministry of Industry and Information Technology of the People's Republic of China Council for the Promotion of International Trade and jointly organized by the China National Postal and Telecommunications Appliances Corporation (PTAC) and the China International Exhibition Center Group Corporation (CIEC). It was an event focusing on the exhibition of information communication related facilities and techniques, forums and seminars. This year, around 550 companies exhibited and approximately 150,000 persons visited the venue including persons from central and regional government related departments and commissions, decision makers of related organizations, persons who are responsible for the purchasing of information, telecommunication related companies and professional engineers (reported by organizers).
This time, the 3D Consortium provided support for the "Pavilion project to experience 3D TV from Japan" which was established to deal with this exhibition as the nation of Japan jointly with the Information and Communication Electronics Division of the Ministry of Economy, Trade and Industry and the Japan Electronics and Information Technology Industries Association (JEITA).
In this hands-on pavilion, 3D TVs from each Japanese manufacturer of 3D TVs (Panasonic, Sony, Toshiba and Sharp) were exhibited to demonstrate the appeal and merits of Japan brand 3D TVs, which are the most advanced home electric appliances, to China and to other countries. In order for comfortable viewing of 3D TV at home, dissemination of the "3DC Safety Guidelines" stipulated by Japan was sought after by displaying posters and an explanation of the overview.
Other than that, under the cooperation by the JEITA Beijing Office, the 3D Consortium made a courtesy call to the China Electronics Standardization Institute (CESI) which is the sole organization handling the standardization related to information technology equipment in China and explained about the "3DC Safety Guidelines" and the commitment of Japan to ISO. From China, explanations about the commitment related to 3D and handling of standardization in China were made.
| | |
| --- | --- |
| | |
| "Pavilion to experience 3D TV from Japan" | Visitors looking at a poster of the "3DC Safety Guidelines" |