July 21 - 25, 2013
August 5 - 9, 2012
September 26 - 30, 2011
September 22 - 23, 2011
August 7 - 11, 2011
April 14 - 11, 2011
November 3 - 5, 2010
July 25 - 30, 2010
May 23 - 28, 2010
March 20 and 22, 2010
April 9 - 10, 2009
January 18 - 22, 2009
August 11, 2008
May 18, 2008
November 26 - 27, 2007
August 17, 2007
November 10, 2006
July 30 - August 3, 2006
April 28, 2006
April 25th, 2005
January 16 - 20, 2005
November 17, 2004
November 4 - 6, 2004
November 3 - 4, 2004
June 26th, 2003
April 8th, 2003

International 3D Fair 2010 (Shanghai, China)


Reporter
: Imai (3D Consortium)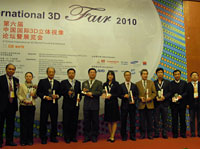 | | |
| --- | --- |
| Date: | November 3 (Wen) – November 5 (Fri), 2010 |
| Venue (Conference): | River Front Hotel, Pudong Shanghai, China |
| Venue (Exhibition): | 3D Exhibition Hall in Shanghai New Expo Center |
The "International 3D Fair" has been annually held in autumn. In 2010, it was jointly organized by 3D related organizations from four countries which are Japan: 3DC (3D Consortium), China: C3D (China 3D Industry Consortium), Korea: 3DFIC (Korean 3D Fusion Industry Consortium) and 3DRC (3D Display Research Center) and the United States: 3D@Home (3D@Home Consortium) in Shanghai, China.
During the fair, various 3D programs and events were organized including 3D workshops, exhibitions of 3D displays and application systems, and presentations of 3D contents. The 3D Consortium participated in the exhibition by reserving its own booth for presentation of exhibits of its member companies. Newsight Japan Ltd, Fujiwara-Rothchild, Ltd., Newopto Corporation and the 3D Consortium presented their exhibits at the booth.
During the workshops organized under the name of the 3D Consortium, Nippon BS Broadcasting Corporation was in charge of sessions related to contents, the Institute for Human Science and Biomedical Engineering, the National Institute of Advanced Industrial Science and Technology, sessions related to safety, Fujiwara-Rothchild, Ltd., sessions related to technologies and the 3D Consortium, sessions related to the 3D industry, and all of them ended in a flourishing atmosphere welcomed by a large number in the audience.
Concerning the 3D Award which has been given to persons who contributed to development of 3D, BS11 (Ms. Natsumi Isobe) and the 3D Consortium (Mr. Koichi Imai) received the award as representatives of Japan.
| | |
| --- | --- |
| | |
| Session by Mr. Hiroyasu Ujike | Newopto Corporation's booth |