July 28 - August 11, 2014
June 19, 2014
February 26, 2014
January 29, 2014
December 9, 2013
November 28, 2013
August 24 and 25, 2013
June 27, 2013
February 27, 2013
December 11, 2012
November 28, 2012
September 27, 2012
June 14, 2012
February 24, 2012
December 13, 2011
September 16, 2011
June 17, 2011
May 27, 2011
February 18, 2011
December 14, 2010
September 17, 2010
July 27, 2010
June 18, 2010
May 14, 2010
November 2009 - March 2010
February 19, 2010
October 5-6, 2009
September 17, 2009
August 28, 2009
June 12, 2009
May 22, 2009
February 20, 2009
December 19, 2008
September 12, 2008
July 18, 2008
June 9, 2008
February 22, 2008
November 22, 2007
September 28, 2007
July 20, 2007
April 20, 2007
February 16, 2007
December 14, 2006
November 20, 2006
September 27, 2006
June 29, 2006
May 23, 2006
April 28, 2006
February 17, 2006
November 16, 2005
October 19, 2005
September 2, 2005
July 20, 2005
June 15, 2005
May 27, 2005
February 15, 2005
November 25, 2004
September 8, 2004
July 27, 2004
June 23, 2004
May 28, 2004
May 13th, 2004
February 24th, 2004
February 24th, 2004
February 24th, 2004
December 17th, 2003
November 26th 2003
October 30th 2003
September 10th, 2003
September 10th, 2003
July 30th, 2003
June 25th, 2003
May 28th, 2003
May 28th, 2003
April 16th, 2003
March 4th, 2003

Report of "3D Consortium study session" chaired by technical section, "technical section meeting"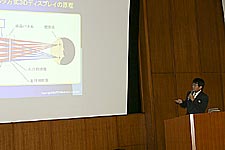 There were about 80 participants at the study session
People in charge of development at Sharp, Arisawa Manufacturing, Sanyo Electrical, Namco, NHK (in order of lectures) were invited to this study meeting as lecturers to introduce the development trends of 3D display, and they gave reports on the actual development environment from the current status to the future. A space was set up in the meeting hall and demonstrations of the display software of each company were given.
"Voices of surprise from the participants at the power of expression of 3D"
The large first step towards creating the 3D market.
(Instead of a greeting)

Mr. Minoru Taniguchi
head of 3D Consortium's administration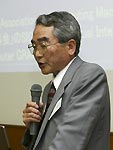 I have 3 points to report regarding the latest state of activities of the 3D Consortium.
The first points is that we held a study session on May 28th and services/contents study session but at that time we reported that there were 5 executive members, 90 standard members and 13 associate members. About one month after that new members joined and the number of members has gone up by 8. There are 96 standard members and 15 associates and if we add to this the 5 executive members, our 3D Consortium parent organisation currently has 116 members.
I will now introduce the standard members and associates that have joined. The 6 new standard members are Ricoh, xxx, AZ Visycom, Broadband, Topcon, Mitsui Production.
The 2 associate members are Professor Yoshikawa of Nihon University College of Science and Technology, and photographer, Seitaro Shimizu. Please put your hands together to welcome them. (Applause)
The second point is my report on the approach towards and developments overseas. There are two aims behind the concept of branching off overseas. One is to get feedback on the overseas 3D market which we can all use in our business. The second is to communicate the status of our activities in Japan overseas and to spread the business opportunities of all of you worldwide. Today, local time, a world conference on virtual reality is being held in Luxembourg and we will communicate our message as the 3D Consortium. In July this year, we will communicate a similar message at SIGGRAPH in the US and will create a firm plan through activities in both the US and Europe. On the domestic front, there have been invitations to the Consortium in various forms from other organisations. For example there are on July 1st-2nd "the 3D Image Conference 2003", on July 4th-5th "the GIS Conference 2003", on July 16th-17th, "Digital Contents World 2003 in Hiroshima", on July 19th "the Seminar on Circulatory Organ Image Technology", on October 14th-16th the "Asia Design International Conference".
As well as communicating the message of the 3D Consortium, we also aim to raise the profile of our activities and are trying to strengthen our activities both at home and abroad. I would be grateful for your positive participation and proposals. We have also received several offers from our members to act in a volunteer capacity as an office if we wish to create a branch overseas. While building on our internal activities, we also want to make waves externally.
Finally, we have 5 stands among the exhibition stands at the back of the hall but I will now talk about the spread of the 3D platform which will link directly to the formation of the domestic 3D market. Last week the SH505i made its debut as the first device with a 3D Display platform. Two companies are already looking at commercialising PC and displays to follow on from the mobile phone at the end of year commercial battle. I would like everyone to think about the spread of the platform aimed at the consumer market as the mobile phone market and large scale 3D displays spread and the business opportunities this entails.
At any rate, we have made the first large step towards creating the market which is the main mission of the 3D Consortium. This is the third point of my report, which is instead of a greeting.
3D Consortium study session (chaired by technical section)



Technical problems involved in creating the 3D market and their solutions


Fumiaki Fujimoto, Sharp.




Assistant Department General Manager, SST Promotion Centre, Sharp

Assistant Department General Manager of SST Promotion Centre 1970 Joined Sharp. Employed on design and development of administrative software for Sharp internally.
1985 Employed on essential software provision as manufacturer for Sharp's information products focusing mainly on design and development of communications middle software and the UNIX, Zaurus development environment in the Information Systems Business Group.
2003 Currently employed on promoting spread of 3D LC business




"Micropoles for 3D LCD"


Yoshihiro Yoshihara




Optodevices group leader, Arisawa Manufacturing Co. Ltd.

Current employment, Manager, Optodevices Group
1981 Joined Arisawa Manufacturing. For the following 18 years has been in technology divisions developing and commercialising all sorts of optical devices.
1999 Development of optical devices for 3D displays and commercial work. Is currently still there.






"The effects of 3D on the human body"


Shigeru Chiba, Sharp


deputy head of Imaging Technology Development Centre, Corporate R&D and head of Research and Development Promotion Office, Sharp
Section leader of 3D Consortium safety/guidelines section
Current employment: deputy head of Imaging Technology Development Centre
From April 1996 to March 2003, participated in the committee researching the effect on the human body of images of JEITA. (Japan Electronics and Information Technology Industries Association). In that time he has been involved in tentative proposals for guidelines relating to 3D images and development of a support database for making safe images.




Development of 3D displays at Sanyo Electrical


Mr. Masahiro Higashino, Sanyo Electric Co. Ltd.




Sanyo Electrical (Senior Technical Specialist, Digital Systems Technology Development Centre)

Currently employed as Senior Technical Specialist, Digital Systems Technology Development Centre
1982 Joined Sanyo Electric Co. Ltd.
1994 Has been employed on research and development of autostereoscopic 3D displays and is currently still there.






"Facing the coming era of 3D image technology"


Atsushi Miyazawa, Namco




Namco (VT research team manager business development group)

Currently employed as manager of the VT research team, Business Development Group.
Employed on researching and developing state of the art graphics such as 3D displays in the Tokyo Research Laboratory of Japan IBM.
1997 Joined Namco. His research fields have been interactive 3D imaging systems, computer character animation etc. Member of Information Processing Society of Japan, the Institute of Image Electronics Engineers of Japan




"Integral stereoscopic TV"


Makoto Okui, NHK




NHK (Senior Technical Specialist, Broadcasting Technology Laboratories)

Currently employed as senior technical specialist, Broadcasting Technology Laboratories (stereoscopic images and sound)
1980 Joined NHK
1983 Technology Laboratories. Employed on imaging systems, high vision, EDTV method research and development.
After that, in charge of stereoscopic image research, initially stereoscopic high vision, recently stereoscopic image method research based mainly on integral photography, electronic holography etc.