July 28 - August 11, 2014
June 19, 2014
February 26, 2014
January 29, 2014
December 9, 2013
November 28, 2013
August 24 and 25, 2013
June 27, 2013
February 27, 2013
December 11, 2012
November 28, 2012
September 27, 2012
June 14, 2012
February 24, 2012
December 13, 2011
September 16, 2011
June 17, 2011
May 27, 2011
February 18, 2011
December 14, 2010
September 17, 2010
July 27, 2010
June 18, 2010
May 14, 2010
November 2009 - March 2010
February 19, 2010
October 5-6, 2009
September 17, 2009
August 28, 2009
June 12, 2009
May 22, 2009
February 20, 2009
December 19, 2008
September 12, 2008
July 18, 2008
June 9, 2008
February 22, 2008
November 22, 2007
September 28, 2007
July 20, 2007
April 20, 2007
February 16, 2007
December 14, 2006
November 20, 2006
September 27, 2006
June 29, 2006
May 23, 2006
April 28, 2006
February 17, 2006
November 16, 2005
October 19, 2005
September 2, 2005
July 20, 2005
June 15, 2005
May 27, 2005
February 15, 2005
November 25, 2004
September 8, 2004
July 27, 2004
June 23, 2004
May 28, 2004
May 13th, 2004
February 24th, 2004
February 24th, 2004
February 24th, 2004
December 17th, 2003
November 26th 2003
October 30th 2003
September 10th, 2003
September 10th, 2003
July 30th, 2003
June 25th, 2003
May 28th, 2003
May 28th, 2003
April 16th, 2003
March 4th, 2003

3D Consortium study session organized by the Contents Sub-committee
(Venue: SGI Hall, Ebisu)



The theme of the study session was "The latest trends of 3D contents and production technologies supporting them".
In the flow toward 3D which started from the success of the movie "Avatar", we are at a major turning point supported by advanced production technologies of 3D contents and display technologies, and the significance of 3D contents has become greater and greater. In order to develop the content business further by creating superior contents, we held a study session organized by the Contents Sub-committee.
After the greeting by Mr. Tsutomu Horikoshi (Leader, Contents Sub-committee), We invited prominent figures who are deeply involved with the latest trends of 3D contents and creation of 3D contents in the industry. They gave lectures on their latest activities with enthusiasm about 3D content.
Our member, Lucent Pictures Entertainment, Inc., organized an exhibition with a demonstration of 3D images.
There were 34 members at the study session for a total of 59 people attending.



"Trends of 3D contents"


Researcher on stereoscopic images

Mr. Takayuki Oguchi
> Outline of lecture
In the full-fledged 3D boom, the 3D industry in Japan tends to prioritize hardware and topics and issues about 3D contents are less prioritized. News about 3D TVs and Blu-ray players have frequently been covered by the press; however, our big question, "Then, what can we see with these devices?" has still not been answered. In such circumstances, this lecture provided an insight about how 3D contents should be through covering topics such as 3D movies which are going to be released, rapid dissemination of 2D/3D conversion, the current status of TV/DVD/Blu-ray contents, and ideal directoral techniques of contents and materials which are not suitable for 3D.


"Fostering of human resources which is essential to the full-fledged diffusion of 3D and the appropriateness of the promotion of 3D products"


Contents service producer

Mr. Satoshi Machida
> Outline of lecture
Most of the major manufacturers released their 3D display products. In such a situation, lack of 3D contents has become an urgent issue to be solved. Then, is it enough if we only have equipment for shooting and editing? Even if we have superior equipment, lack of human resources with basic knowledge about creation of 3D content leads to mass production of contents with inferior quality which may stall the 3D market. This lecture provided recommendations on basic workshops which enable easy acquisition of basic knowledge on creation of 3D contents with insignificant costs.


"Commitment for planning and producing 3D contents"


President, Lucent Pictures Entertainment, Inc.

Mr. Eiichi Kamagata
> Outline of lecture
Explanations of past achievements, experiences and production techniques of 3D contents by Lucent Pictures Entertainment, Inc. were given. This lecture introduced the commitment by Lucent Pictures which aims to provide 3D contents that satisfy the audience in the situation where we are in a 3D boom thanks to rapid dissemination of digital technologies. Appropriate approaches to tackle with the issue of a lack of 3D contents including presenting challenges and solutions were also covered.
> Exhibition by using demonstration of images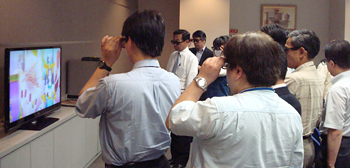 "Development of stereopsis (3D) image technology and activities for dissemination"


Chief of Future Business Promotion Room, Business Development Department

Mr. Tomoaki Sudo
> Outline of lecture
In order to avoid failure in creation of stereoscopic images and to contribute to effective creation of 3D images, as a part of the project to promote creation of new markets by integration of IT and services for fiscal 2009 (project for experiments of contents technologies) commissioned by the Ministry of Economy, Trade and Industry, the Digital Content Association of Japan prepared the "Collection of images and explanations to support 3D creation" based on examples of unnatural or uncomfortable 3D images as a result of their selecting scenes which are used often and shooting and editing with computer graphics. In this lecture, explanations of this collection and introduction of seminars based on the collection were provided.


"Commitment toward 4K3D images"


Manager, Marketing Promotion Division, Broadcast Engineering Department, NHK Media Technology, Inc.

Mr. Itaru Murayama
> Outline of lecture
This year is referred to as the first year of 3D. Finally, mass production of full high definition 3D images has started. An increase in available 3D contents is welcome for the monitor market and general audience; however, at the same time, there are concerns about dissemination of 3D images with poor quality which may lead to the 3D boom as being a temporary one. In such a situation, this lecture introduced "4K3D" which comes after high definition 3D, and the results of verification of the impact of enhanced definition on 3D images and effects by creating 4K3D images.