July 28 - August 11, 2014
June 19, 2014
February 26, 2014
January 29, 2014
December 9, 2013
November 28, 2013
August 24 and 25, 2013
June 27, 2013
February 27, 2013
December 11, 2012
November 28, 2012
September 27, 2012
June 14, 2012
February 24, 2012
December 13, 2011
September 16, 2011
June 17, 2011
May 27, 2011
February 18, 2011
December 14, 2010
September 17, 2010
July 27, 2010
June 18, 2010
May 14, 2010
November 2009 - March 2010
February 19, 2010
October 5-6, 2009
September 17, 2009
August 28, 2009
June 12, 2009
May 22, 2009
February 20, 2009
December 19, 2008
September 12, 2008
July 18, 2008
June 9, 2008
February 22, 2008
November 22, 2007
September 28, 2007
July 20, 2007
April 20, 2007
February 16, 2007
December 14, 2006
November 20, 2006
September 27, 2006
June 29, 2006
May 23, 2006
April 28, 2006
February 17, 2006
November 16, 2005
October 19, 2005
September 2, 2005
July 20, 2005
June 15, 2005
May 27, 2005
February 15, 2005
November 25, 2004
September 8, 2004
July 27, 2004
June 23, 2004
May 28, 2004
May 13th, 2004
February 24th, 2004
February 24th, 2004
February 24th, 2004
December 17th, 2003
November 26th 2003
October 30th 2003
September 10th, 2003
September 10th, 2003
July 30th, 2003
June 25th, 2003
May 28th, 2003
May 28th, 2003
April 16th, 2003
March 4th, 2003

Lectures / Panel Discussion
(Venue: Sharp Makuhari Building)



| | |
| --- | --- |
| | Professor Yasuda of Tokyo University lecturing on the Future of 3D Technology |
After the general meeting concluded, the lectures and the panel discussion were held. Professor Yasuda of the Tokyo University Advanced Science and Technology Research Center and Dr. Nakagori, medical director at the East Hospital of the National Cancer Center delivered keynote lectures. Six regular and associate members participated in the panel discussion. In addition, as this was a joint meeting with the Consortium of 3-D Image Business Promotion ('Rittaikyo'), 46 members from the Rittaikyo participated in the meeting.
Consortium of 3-D Image Business Promotion Website:
http://www.rittaikyo.jp/

Greeting from Mr. Taniguchi, Head of Administration

Lectures / Panel Discussion
Panel Discussion (scheduled to be posted at the end of March)



Greeting from Mr. Taniguchi, Head of Administration
The Three Priority Items, A, B, and C


Thank you very much for attending the first joint meeting of the Consortium of 3-D Image Business Promotion and the 3D Consortium.
Now, we are planning to promote our activities this year by strategically reinforcing our three priority items A, B, and C. The Item A reinforces our activities focusing on cooperating with government and other public offices, participating in national projects, and approaching local governments. The Ministry of Public Management, Home Affairs, Posts and Telecommunications, and the Ministry of Agriculture, Forestry and Fisheries are also included in the organizations to approach.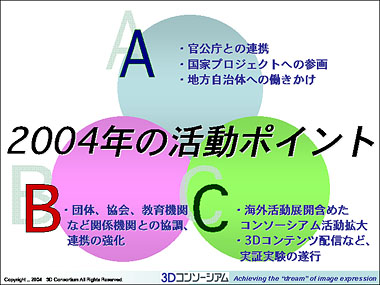 Last year, we announced our participation in the Digital Sosui Network project, which is being promoted by Kyoto Prefecture. This year, the Multimedia Festival, which rotates among all the prefectures, is scheduled to be held in Wakayama prefecture. We are planning to reinforce our approach with the Ministry of Education, Culture, Sports, Science and Technology and other organizations through our proposals for local governments. For our approach with the Ministry of Agriculture, Forestry and Fisheries, we discovered during a discussion with some key people from the Ministry that there is a need for 3D. They have monitor cameras at their experimental plantations for live-monitoring the growth process of new species starting from germination, and they would like to monitor the process with 3D.
When looking at the whole picture of the e-Japan Priority Policy, which is being promoted by the government, there are four key areas comprised of regional revitalization, education, nurturing venture businesses, and internationalization. Now, there is movement to reinforce these areas by working at the prefectural level. The promotion policy for item A is that we, as the 3D Consortium, would like to increase business case examples as much as possible with cooperation from all members.
For Item B, just like today's collaboration with the Consortium of 3-D Image Business Promotion, we would like to promote our activities in cooperation with the CG Arts Society and the Digital Content Association, which have the same objectives as the 3D Consortium. As to the tie-up with the CG Arts Society, we are discussing with the association about our cooperation as the 3D Consortium for the Media Arts Festival, which is commissioned by the Agency for Cultural Affairs to be held from the end of February to March at the Tokyo Metropolitan Museum of Photography in Ebisu. We would like to work closely with the Digital Content Association for the SIGGRAPH exhibition so that we can be prepared to offer strong presentations at the exhibition site.
In addition to information exchanges at the secretariat level, we would like to share the results of working group activities with the members of the Consortium of 3-D Image Business Promotion, if there are any common themes. As one example, we will start a cross-field working group activity where members of both the Consortium of 3-D Image Business Promotion and the 3D Consortium will participate, aiming for one-content/multi-use of displays. Professor Niitsu of Tokyo Denki University has kindly accepted the chair for the working group.
The third Item C means that we will reinforce our overseas activities and collaborations with other groups. For overseas activities, we will increase the international presence of the 3D Consortium by clearly communicating about our work at SID, which will be held in May, and SIGGRAPH, which will be held in August. As to the collaboration with other groups, the Agro-information Expo (agriculture information technology exhibition), which is sponsored by the Ministry of Agriculture, Forestry and Fisheries, will be held for two days from March 2nd to March 3rd. We would like to expand our activities into IT development in agriculture.
As we always explain to the members, the parts for planning 3D business are just like the individual pieces of a jigsaw puzzle, and the 3D Consortium is the place where all these pieces are fit together. Various platforms are now becoming available, and technological development is advancing in different aspects beyond software conversion technology. As to the content, visiting the exhibition site set up along with today's meeting, I really feel that there have been great improvements even when compared with the past few months. We would like to take our first firm step this year toward market creation with these three priority items A, B, and C.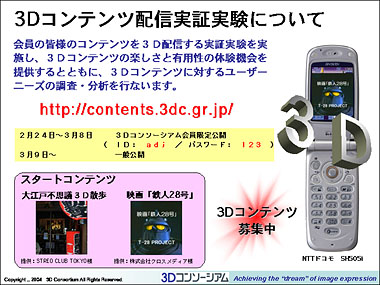 Along with these activities, we will start an experiment for 3D content distribution using mobile phones. This experiment has two purposes. First, we would like to appeal to many users through their enjoyment of 3D experiences. Next, we will investigate and analyze the responses of users in a distribution experiment, and establish a structure that facilitates creating future content. An additional purpose of this distribution experiment is to increase the need in the consumer market.
Today is the turning point for the 3D Consortium where we make a start for the new fiscal year. We look forward to continued support from all of our members.
Lectures / Panel Discussion


Toshio Nakagori
Medical Director, Hepatic Section, Epigastria Surgery Outpatient Department, East Hospital of the National Cancer Center
Hiroshi Yasuda
Professor and Director, Center for Collaborative Research, Tokyo University
Hiroshi Tahara
Managing Director, Eye Power Sports Inc.
Issaku Mashimo
Sportsvision Society


3D Images in Medical Treatment
_ Experience from Surgery





Medical Director, Hepatic Section, Epigastria Surgery Outpatient Department, East Hospital of the National Cancer Center
Toshio Nakagori


The introduction of 3D images is rapidly advancing in medical treatment. Today, I would like to report on 3D image diagnosis, a virtual endoscope using special image processing, surgical navigation with a 3D image application, and animation for informed consent (OpeAnime) using 3D computer graphics that we have been investigating through collaborative research with assistant professor Takashi Kawai of the Global Information and Telecommunication Institute (GITI), Waseda University.

The 3D image diagnosis offers advantages including making it easy to understand the three dimensional relationships between a tumor and other structures such as blood vessels, and it can present clear integrated images. Therefore, the chances are very good that 3D could be especially useful for low-invasive surgery. The virtual endoscope is useful for diagnosing intraductal papillary mucous tumors and pancreas carcinoma, because it can observe regions where a real endoscope cannot reach. The composite reality 3D display can be used as a navigation system for hepatic and pancreatic surgeries. OpeAnime can clearly explain about the surgery to the patient, improving the mutual trust between the patient and the doctor, and the patient can agree to undergo the surgery with more peace of mind. We expect that 3D Images will be increasingly applied in medical treatment.





Environment around Content and Demand for 3D Technology





Professor and Director, Center for Collaborative Research, Tokyo University
Hiroshi Yasuda


The e-Japan strategy of the government's IT Strategy Headquarters is aiming at improving the infrastructure in order to promote an always-on high-speed Internet access network for 40 million households within five years. We need killer content that can promote demand in order to facilitate rapid improvement under market principles. The seas and oceans around us do not create a barrier against content. If there is not good content inside Japan, consumers will go to outside resources. If there are not any domestic products, we need to import them from other countries. Therefore, it is important to make content a national industry.

What kind of business model is appropriate for this purpose? The model where audiences pay for their content is now saturated, and we need business models that offer free-of-charge content in order to further increase demand. This is where the demand to both show and present meta-data comes in.

The prerequisites for image technology are converting the meta-data into contents, putting the technology into black boxes, implementing a parallel reality environment, and having super professional people in this field. We need to promote the popularization and super-specialization of 3D content. We would like to facilitate a synergistic effect by introducing excellent content to society. The future directions for 3D technology are 3D suitable for mobile environments, super-quality 3D, and eye-friendly 3D, which we hope will be produced in the future.





Utilizing 3D in Vision Training







Managing Director, Eye Power Sports Inc.
Hiroshi Tahara


Generally, 3D images are considered to place a load on the eyes and be bad for the eyes. Our products, however, place a load on the eyes to train them, adjusting the eyes by stretching them. This results in improving eyesight. Our 3D training system places a load on the eyes at incredible speeds. We use stretching software before and after the training software because the training software used alone can be hazardous. Combining both produces a system that is good for the eyes. We also have validation data for the system.

The 3D software alone tends to present poor images if we try to produce 3D software that has the lightest possible load and is safe for the eyes. There is, however, demand for really enjoyable applications, and the stretching images can be used successfully for this purpose. We would like you to explain to your users and clients that these applications really are safe because the stretching images adjust the eyes.

In the future, children will use notebook computers to do their homework, and we will be unable to say, "No, don't do your homework because it's bad for your eyes." We can imagine that a time will arrive when we will not be able to protect our eyes with the guidelines alone. We would like everyone to consider that creating an appropriate manual to protect our eyes is also important for protecting our market. We would like to present safety and enjoyment for users eagerly awaiting 3D entertainment.





Sports Vision (Sports Optesthesia) and 3D Images






Sportsvision Society
Issaku Mashimo


The analysis and research results on the relation between sports and vision revealed that top-ranking athletes have excellent eyesight, and excellent eyesight is a prerequisite for top athletes. It is important to play outside during the childhood period when eyesight develops in order to have excellent eyesight. In Japan, however, it is hard for children to play in wide open natural spaces. Therefore, utilizing 3D is effective because 3D enables seeing a wide area of space while sitting in a narrow space.

Now, the basic software is complete for visual training, but the contents require further improvement. Utilization of 3D can be expected for vision training related to eye adjustment and tension, such as improving low vision and preventing eye strain. 3D, however, contains unnatural features that will cause eye strain. Therefore, we need to develop programs while considering this problem. From the standpoint of sports medicine, I am expecting that 3D technology will develop for the benefit of Japan's sports world and for improving VDT operations.






3D Consortium 2004 General Meeting

Member Exhibitions