July 28 - August 11, 2014
June 19, 2014
February 26, 2014
January 29, 2014
December 9, 2013
November 28, 2013
August 24 and 25, 2013
June 27, 2013
February 27, 2013
December 11, 2012
November 28, 2012
September 27, 2012
June 14, 2012
February 24, 2012
December 13, 2011
September 16, 2011
June 17, 2011
May 27, 2011
February 18, 2011
December 14, 2010
September 17, 2010
July 27, 2010
June 18, 2010
May 14, 2010
November 2009 - March 2010
February 19, 2010
October 5-6, 2009
September 17, 2009
August 28, 2009
June 12, 2009
May 22, 2009
February 20, 2009
December 19, 2008
September 12, 2008
July 18, 2008
June 9, 2008
February 22, 2008
November 22, 2007
September 28, 2007
July 20, 2007
April 20, 2007
February 16, 2007
December 14, 2006
November 20, 2006
September 27, 2006
June 29, 2006
May 23, 2006
April 28, 2006
February 17, 2006
November 16, 2005
October 19, 2005
September 2, 2005
July 20, 2005
June 15, 2005
May 27, 2005
February 15, 2005
November 25, 2004
September 8, 2004
July 27, 2004
June 23, 2004
May 28, 2004
May 13th, 2004
February 24th, 2004
February 24th, 2004
February 24th, 2004
December 17th, 2003
November 26th 2003
October 30th 2003
September 10th, 2003
September 10th, 2003
July 30th, 2003
June 25th, 2003
May 28th, 2003
May 28th, 2003
April 16th, 2003
March 4th, 2003

Report of the 3D Consortium Study Session jointly organized by the Technical Sub Committee and the Service/Contents Sub Committee
(Venue: SGI Hall, Ebisu)



The Study Session was jointly organized by the Technical Sub committee and the Services/Contents Sub Committee at the SGI Hall in the Yebisu Garden Place Tower on November 20.
The theme of this study session was the "Trends of the latest 3D technologies," which focused on hardware and software for 3D displays which have recently attracted attention as well as introduction of the commitment by the "Magic-C 3D Consortium," an organization which is working on development of technologies and markets for the "3D spatial search technology." 3D spatial search is a technology which proposes new applications that handle input, display, and offering of services with possibilities for development of new markets.
An exhibition with demonstrations was also held.
There were 24 members at the study session for a total of 42 people attending.





"High-performance 2-screen displays which toggle between 3D display and 2D display"


Group Leader Ph. D, Display Development Group, Display Development Center, Display Development Division, Seiko Epson Corporation
Mr. Goro Hamagishi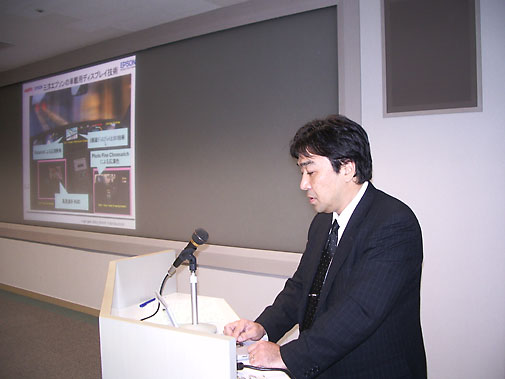 Lecture Summary
Sanyo Epson developed high-performance 2-screen displays which toggle between a 3D display and a full 2D display. They developed a new system which realizes two-screen displays by controlling directional characteristics of polarized light because a standard parallax barrier system has problems in handling higher precision and 2D displays. The Sanyo Epson representative explained the outlines of this display in his lecture.




"Full parallax 3D display for a portable use"


Executive Research Engineer Ph. D, Director, Frontier Technology Research Group, Research Laboratories, NTT DoCoMo, lnc.
Mr. Tsutomu Horikoshi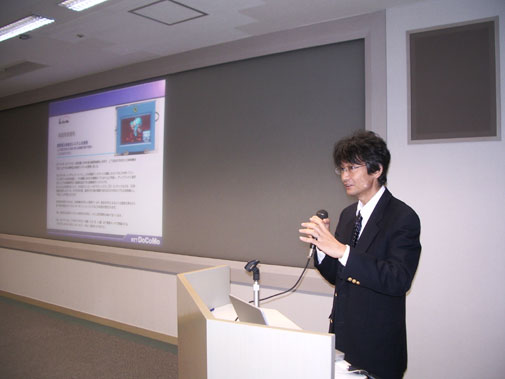 Lecture Summary
He introduced outlines of the portable 3D display system which was announced in a press release on September 29, 2006. This system is a 3D display system which realizes smooth movement parallax within a 30-degree visual field angle by displaying high density images in directions of 30 different visual axes. In addition, the system which he introduced in the lecture realizes a pseudo full parallax 3D display which allows viewers to see 3D images from various directions by switching and displaying 3D images according to the direction of visual lines of viewers with a small camera installed on the top of a display to detect their view points.




"Commitment by SGI Japan, Ltd. for 'The British Museum - Mummy: the inside story' exhibition"


Manager, Solution Promotion , SiliconLIVE Business Promotion, SGI Japan, Ltd.
Ms. Fumi Sawa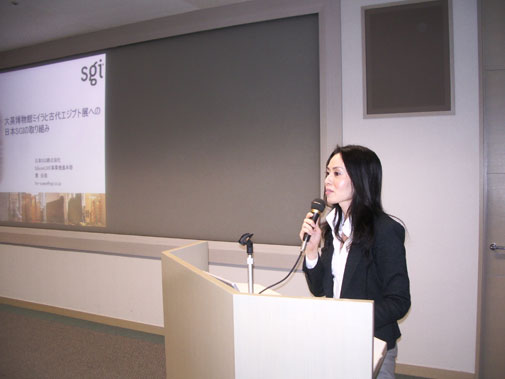 Lecture Summary
At "The British Museum - Mummy: the inside story" exhibition which has been held at the National Science Museum, Ueno, Tokyo, 3D contents focusing on volume rendering of mummies are presented. The SGI representative introduced technical cooperation by SGI Japan for public presentation of the 3D contents which are included in the collection of the British Museum and the appeal of these contents, and provided prospects and business models for new ways of presenting of 3D contents.




"Renderer and Markerless Tracking of the Augmented Reality System 'D'Fusion'"


Director, General Manager, NTI Co., Ltd.
Mr. Nobukatsu Haraguchi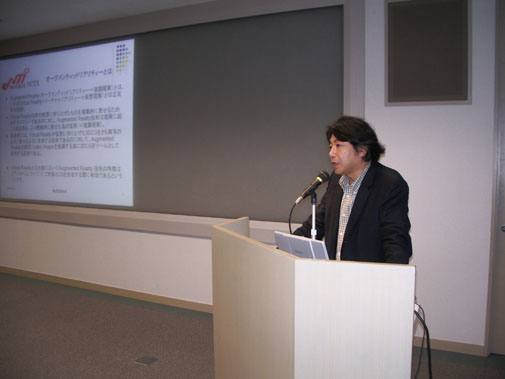 Lecture Summary
"Augmented Reality" is usually translated into Japanese in a way which literally means "enhanced reality" or "emphasized reality." "Virtual Reality" expresses objects and scenes which do not actually exist by utilizing computer graphics (CG); on the contrary, Augmented Reality uses 3D CG as parts to achieve additional effects on live shots. "D'Fusion" which was developed by Total Immersion has been used for simulations of exterior and interior designs by automobile manufacturers for around 5 years in Europe, and also for training simulations for military purposes as a commercialized package system. The range of usage of this technology has been recently expanding including the use for broadcasting, architecture and theme parks, and broadcasting stations and theme parks in Japan have adopted this system. Total Immersion also developed a pattern recognition tracking system by using an image analysis method called "Markerless Tracking" which has been introduced mainly by broadcasting stations.




Lecture 1 by the "Magic-C 3D Consortium"
"'3D spatial search technology' for mobile phones"


Assistant Manager, 1st system Department, NEC Magnus Communications, Ltd.
Mr. Junichi Yamazaki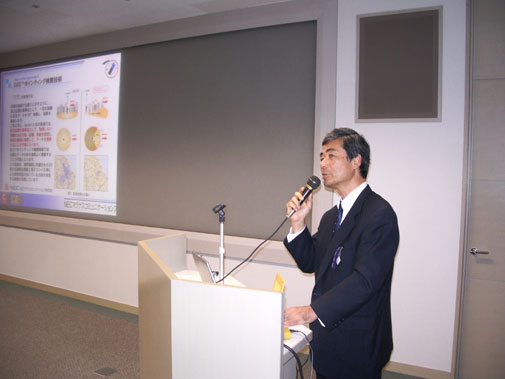 Lecture Summary
Information search technologies have drastically evolved recently, and now they are essential for our daily lives. However, many of the mobile search systems adopted technologies for PCs as is, and such systems are not necessarily convenient for users. NEC Magnus Communications affiliated with GeoVector (GV), which is a US venture company, to seek more convenient information search technologies and practical applications of 3D spatial search technology under a slogan "Click on the real world" (trademark) based on the patented 3D spatial search technology which is owned by GV. The 3D spatial search technology aim to acquire information by pointing the target with mobile phones as we do with a computer mouse by processing the real world like a 3D screen. The service was started as a "Local search service by MAPION-dono" for mobile phones by au in January 2006, and the service is planned to be expanded to other carriers including DoCoMo. The "Magic-C 3D Consortium" was established and started activities for popularization and expansion of 3D spatial search service. Introductions were made about the 3D search technology by GV related to the "3D spatial search technology" which was exhibited at "Wireless Japan 2000" and was announced in a press release in July 2006, 3D maps for mobile phones and the "3D spatial search" related to the display techniques for the 3D maps as examples of achievements by the Magic-C 3D Consortium and also about the Consortium itself.
*Reference
http://necmagnus.jp/GViD/


Lecture 2 by the "Magic-C 3D Consortium"
"The electronic compass technology which supports the 3D spatial search"


Group Leader, Multi Sensor Business, Marketing & Sales Center, Asahi Kasei Microsystems Co., Ltd.
Mr. Masaya Yamashita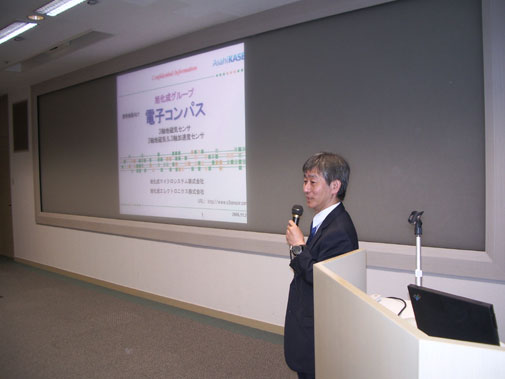 Lecture Summary
The term, 3D (three dimensions), is widely used for spatial information (stereoscopic). Some of the physical quantities which are detected by sensors are acquired as the 3D vector amount. Magnetic force and accelerated velocity are typical examples of such 3D vectors. Surprisingly, we only have earth magnetism and gravity acceleration as a "spatial vector amount" which can be used widely (without establishing artificial infrastructure) on earth. Therefore, it is common to measure vectors of earth magnetism and gravity acceleration as a method to sense (detect) the position information (direction) of objects (including persons) in real space as an input method for mobile equipment services such as "Navigation for walkers" and "3D spatial search." It is important to understand that the "electronic compasses" which are used for these purposes are not just sensors (which are usually transducers which convert the physical quantity to electrical signals), but rather are an "interface" (which is a tool to extract information from the physical quantity.) Asahi Kasei Microsystems commercialized "3-axis electronic compasses" which grasp earth magnetism in 3D and "6-axis electronic compasses" which grasp both earth magnetism and accelerated velocity in 3D. Elemental technology for electronic compasses and application examples were introduced in this lecture.
*Reference
http://www.s3sensor.com


* Scenes from an "exhibition with demonstrations"


| | |
| --- | --- |
| NTI Co., Ltd. | NEC Magnus Communications, Ltd. |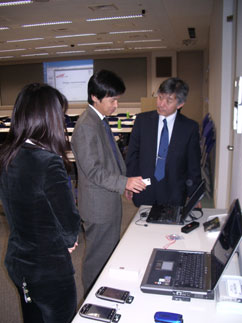 Asahi Kasei Microsystems Co., Ltd.