July 28 - August 11, 2014
June 19, 2014
February 26, 2014
January 29, 2014
December 9, 2013
November 28, 2013
August 24 and 25, 2013
June 27, 2013
February 27, 2013
December 11, 2012
November 28, 2012
September 27, 2012
June 14, 2012
February 24, 2012
December 13, 2011
September 16, 2011
June 17, 2011
May 27, 2011
February 18, 2011
December 14, 2010
September 17, 2010
July 27, 2010
June 18, 2010
May 14, 2010
November 2009 - March 2010
February 19, 2010
October 5-6, 2009
September 17, 2009
August 28, 2009
June 12, 2009
May 22, 2009
February 20, 2009
December 19, 2008
September 12, 2008
July 18, 2008
June 9, 2008
February 22, 2008
November 22, 2007
September 28, 2007
July 20, 2007
April 20, 2007
February 16, 2007
December 14, 2006
November 20, 2006
September 27, 2006
June 29, 2006
May 23, 2006
April 28, 2006
February 17, 2006
November 16, 2005
October 19, 2005
September 2, 2005
July 20, 2005
June 15, 2005
May 27, 2005
February 15, 2005
November 25, 2004
September 8, 2004
July 27, 2004
June 23, 2004
May 28, 2004
May 13th, 2004
February 24th, 2004
February 24th, 2004
February 24th, 2004
December 17th, 2003
November 26th 2003
October 30th 2003
September 10th, 2003
September 10th, 2003
July 30th, 2003
June 25th, 2003
May 28th, 2003
May 28th, 2003
April 16th, 2003
March 4th, 2003

3D Consortium study session organized by the Technical Sub-committee
(Venue: LEN Rental Conference Room" in Ochanomizu, Tokyo.)



On September 27, the second study session organized by the Technical Sub-committee was held at a rental conference room of the "LEN Rental Conference Room" in Ochanomizu, Tokyo.
The theme of the study session was the "Latest technologies related to shooting/computer graphics (CG),editing,displaying,application of 3D".
The Olympic Games in London held this summer were shot live with 3D technologies and these programs were broadcasted by five commercial TV stations in Japan starting from September 10. 4K/8K are the trends for pursuing highly realistic representation; however, the effects and realism which can be expressed by 3D images are different from higher definition. There is no question that 3D live shooting will be essential as one of the representation methods in the future as well as higher resolution. In such a situation, a study session related to the latest technologies including contents production, 3D displaying and applied systems was held. Specifically, lectures, demonstrations and exhibitions including 3D projection were held which are related to more efficient conversion technologies from 2D to 3D which create new values. Also covered were production of 3D movies by using the technologies for developing games with popular stories, see-through head-mounted displays (HMDs) which enable us to enjoy 3D on a large screen whenever and wherever we would like and medical system technologies which is winning attention as an application of 3D. In addition, reports were made about a workshop on 3D shooting and production which was organized as one of the 3D Consortium's "Value 3D Activities" in July 2012 with the participation of people who are actually involved in production projects in Hollywood.
There were 25 members at the study session for a total of 49 people attending.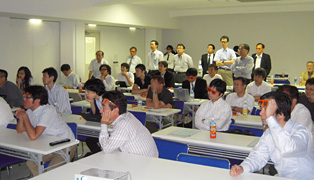 "Epson 3D Head Mount Display - MOVERIO BT-100 - Overview of product and technologies"


Manager, VA Business promotion department, Visual Products Division, Seiko Epson Corporation

Mr. Hiroyuki Baba
EPSON's see-through mobile viewer, MOVERIO "BT-100" is a see-through type head mount display under the concept, "Large display, whenever and wherever you would like". This head mount display enables the presentation of various contents including 3D without connection to additional equipment. Viewers can see the screen and the surroundings at the same time because it is a see-through type. Since the display can show completely independent image information on the left eye and the right eye, natural 3D images can be presented without crosstalk and flicker which occur when 3D images are displayed on 3D TVs. This demonstration will introduce the overview of the product and the technologies which enabled see-through display. * Demonstrations with the actual product will be held.


"3D recording with a surgical microscope and recording techniques"


President, Lucina Corporation

Mr. Fuyuki Horiike
In the field of neurosurgical, otorhinolaryngological or ophthalmic microsurgery, tools with higher efficiency are indispensable for education of advanced procedures and conference presentation.
Especially, it was impossible for a 2D camera to record the depth of the surgery site. On that account, educational benefits by using 3D shooting are immeasurable. The information was only available through assistants' CCDs on the endoscope, but recorded images can be shared with many doctors. This demonstration will be conducted by a 3D camera installed on a surgical microscope for introduction of the current situation of 3D parallax effects and recording equipment. (Cooperation: Sony Business Solutions Corporation)
* Presentation of 3D recording and demonstrations with the actual product will be held.


"Introduction of 2D/3D conversion system 'RayBrid AdDepth'"


Division Director, Visual Contents Business Division, M SOFT Co. Ltd.

Mr. Koji Kataoka
ADDepth is a system which converts 2D images to 3D images.
This system can handle a series of tasks required for conversion such as generation and amendment of depth maps to create a sense of depth, calculation of disparity depending on the audio-visual environment, and output of independent images for the left eye and the right eye. This system does not require a time-consuming preparation of masks or complicated procedures; conversion operations can be easily handled by anyone. Introduction and demonstration of the actual system will be made.
* Presentation of 3D recording and demonstrations with the actual equipment will be held.


"3D animation for movie theaters '.hack//The Movie' - 3D movie created by a game maker"


Director, Sai-team, Development Department, CyberConnect2 Co., Ltd.

Mr. Kazuyoshi Futatsuka
".hack//The Movie" is a 3D animation for theater. CyberConnect2 has created it's animation. It is a stereoscopic vision work which pursued easy-to-see 3D and expressed the real world and the world of games with different textures. This lecture will focus on the technical standpoint and the production of a 3D animation for theater which utilizes the characteristics of game development.


"3DC - Introduction of the latest workshop concerning the Hollywood's 3D shooting and production technologies"


Leader of Committee for Improvement of Values of 3D (abbreviated as "Value 3D"), I-O Data Device, Inc.

Mr. Katsuyuki Toyota
The theory and the brief contents of practices presented by a famous professor of a movie course and a famous stereographer during the workshop organized on July 26 and 27 will be introduced. In addition to the contents of their passionate lectures, questions and answers with participants and presentations of shooting techniques, 3D photos and 3D videos of the workshop will also be presented.