July 28 - August 11, 2014
June 19, 2014
February 26, 2014
January 29, 2014
December 9, 2013
November 28, 2013
August 24 and 25, 2013
June 27, 2013
February 27, 2013
December 11, 2012
November 28, 2012
September 27, 2012
June 14, 2012
February 24, 2012
December 13, 2011
September 16, 2011
June 17, 2011
May 27, 2011
February 18, 2011
December 14, 2010
September 17, 2010
July 27, 2010
June 18, 2010
May 14, 2010
November 2009 - March 2010
February 19, 2010
October 5-6, 2009
September 17, 2009
August 28, 2009
June 12, 2009
May 22, 2009
February 20, 2009
December 19, 2008
September 12, 2008
July 18, 2008
June 9, 2008
February 22, 2008
November 22, 2007
September 28, 2007
July 20, 2007
April 20, 2007
February 16, 2007
December 14, 2006
November 20, 2006
September 27, 2006
June 29, 2006
May 23, 2006
April 28, 2006
February 17, 2006
November 16, 2005
October 19, 2005
September 2, 2005
July 20, 2005
June 15, 2005
May 27, 2005
February 15, 2005
November 25, 2004
September 8, 2004
July 27, 2004
June 23, 2004
May 28, 2004
May 13th, 2004
February 24th, 2004
February 24th, 2004
February 24th, 2004
December 17th, 2003
November 26th 2003
October 30th 2003
September 10th, 2003
September 10th, 2003
July 30th, 2003
June 25th, 2003
May 28th, 2003
May 28th, 2003
April 16th, 2003
March 4th, 2003

Report of the 3D Consortium Study Session jointly organized by the the Amusement WG and the Technical Sub Committee
(Venue: SGI Hall, Ebisu)



The Study Session was jointly organized by the Amusement WG and the Technical Sub Committee at the SGI Hall in the Yebisu Garden Place Tower on September 27, 2006.
The theme of this study session was the "Media Content Businesses Coming in the Near Future." Ahead of the time when communication technology with 3D images will become more familiar to the general public, the people who are involved with the cutting-edge commitments such as the character business for TV animation, and the basic technologies of digital media and the surrounding fields, producers of contents (characters) were invited as lecturers. Demonstrations and exhibitions were also held.
There were 21 members at the study session for a total of 40 people attending.




"Case examples of utilization of stereoscopic images by Chukyo TV Broadcasting Co., Ltd."


Technological Bureau, Production technology Department, Chukyo TV. Broadcasting Co., Ltd.
Mr. Tetsuya Kawamoto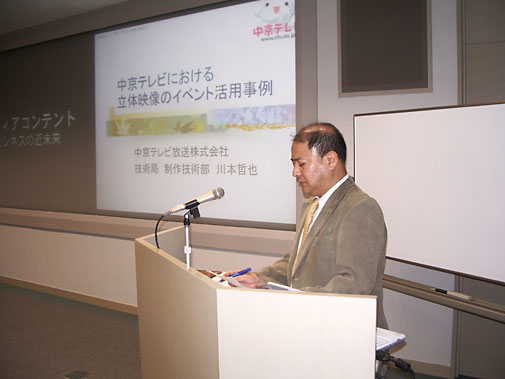 Lecture Summary
(1) Operation of a high definition live action shooting 3D theater which presents contents which are totally produced by Chukyo TV, (2) an operational example of the micropol monitor for the "Memories of the Expo Exhibition," and (3) presentation of a golf tournament on a large-size multi-view display. All of these case examples were conducted at a small scale, but we have been challenging various themes. Chukyo TV also has a mascot character, and I am going to report the issues concerning creation of 3D images from the character.




"Photography by using the 'Photomo (Photo+Model)' - Art works which 'speak' by combining techniques and contents"


Representative of the Objective Art Association, photographer, artist (* Author of "Street Corners Captured by 'Photomo'" which was published by Artone.)
URLF
http://www.artone.co.jp/books/134.html
Mr. Kimio Itozaki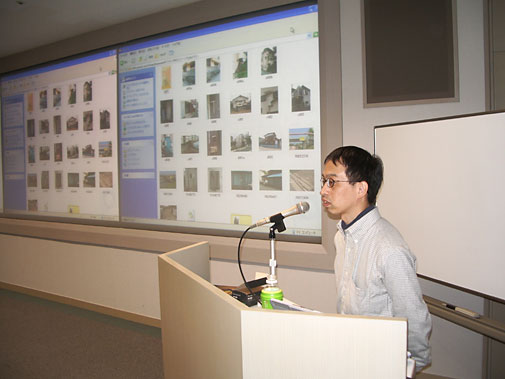 Lecture Summary
"Photomo" is a type of 3D media which is a stereoscopic composition of cutouts of photos which are created by a cutting tool such as scissors. It is totally a "low-tech" work, but I think that it has become popular because it is possible to achieve an unexpectedly interesting illusion which has a similar or better quality than high-tech 3D media. "Photomo" is not just a type of technique; it comes into power as a piece of art work because the work combines with the "contents" which are created from a standpoint which is unique to me. Technique is a kind of "empty vessel," and without putting any content into it, we cannot create anything out of it. In this lecture, I am going to talk about my photographic technique based on the concept of using the technique and the contents as a pair, and will include an introduction of my works which are created by using techniques other than Photomo.




"Strategies for developing animation for 'Doroku (6 o'clock on Saturdays)' timezone"


Department Manager, TV Program Composition Department, Mainichi Broadcasting System, Inc. (MBS)
Mr. Seiji Takeda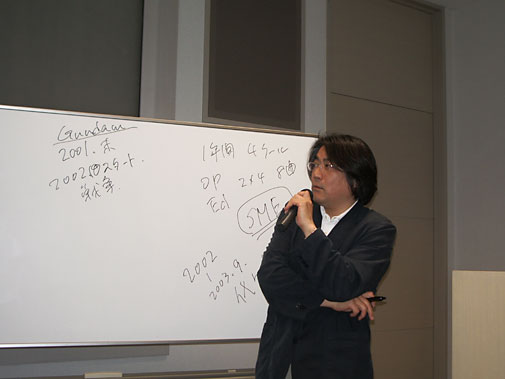 Lecture Summary
I am going to explain about the reason why MBS has been continuously producing original animation on a one-year cycle basis while many other TV stations mainly produce animation based on popular comics, and the animation strategy adopted by MBS. After explaining about the business scheme of MBS, I am going to introduce actual business which has been developed based on "Doroku" animation including how to recover costs, and what kind of products should be developed to pursue utmost profits.




"Report from 'HITACHI uVALUE Convention 2006' - For natural stereoscopic expression - Stereoscopic images without special glasses based on the Integral Videography system -"


Senior Researcher, Hitachi Ltd., Systems Development Laboratory
Mr. Michio Oikawa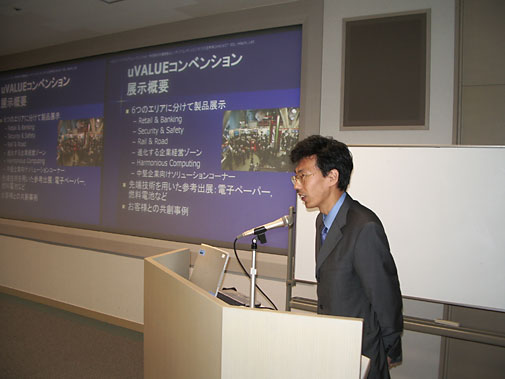 Lecture Summary
As creation of 3D video contents for movies and car navigation systems advances, various types of 3D displays which do not require special glasses have been developed. Emphasizing the expression of natural stereoscopic effects, we developed a stereoscopic view display without special glasses based on the Integral Videography (IV) system which enables reproduction of light information and can handle moving images. I am going to introduce the principle of the display showing stereoscopic images without special glasses based on the IV system, how to produce contents based on the system and examples of stereoscopic image presentations.




"Do character robots have a future!?"


Director, Bandai Robot Laboratory
Mr. Yoshinori Haga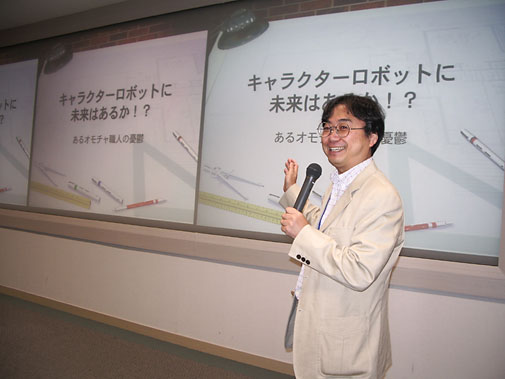 Lecture Summary
As a platform for characters, Bandai has been conducting research and development of entertainment robots. However, when we consider robots as a new category of products, will entertainment robots be able to exist on the extended line which is based on our existing technologies? In this lecture, I am going to introduce research of entertainment robots which was conducted at the Bandai Robot Laboratory and their concepts, and think about the future image of character robots as commercial products.



"Exhibition with demonstrations"


Lecturer: Exhibition of works by Mr. Itozaki ("Street Corners Captured by 'Photomo'" published by Artone.)


Exhibition of 3D "Tamagotchi" (Hitachi Group, Namco Bandai Holdings, Inc.)